Orange Order parades take place in Glasgow and Coatbridge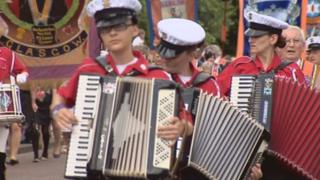 Up to 20,000 marchers took part in annual Orange Order parades in Glasgow and Coatbridge.
About 125 parades joined with two main parades in Glasgow and Lanarkshire. Marchers, followers and spectators had been urged to leave "booze and bad behaviour behind".
Police Scotland said 46 people were arrested for minor disorder offences.
Half of the arrests took place in Glasgow and the same number were charged at the Coatbridge event.
Ahead of the event, Assistant Chief Constable Wayne Mawson said sectarian behaviour or "any form of hate crime" would not be tolerated.
Henry Dunbar, the Grand Master of the Orange Order, said the organisation and the police were "working well together" to ensure that parades ran smoothly.
"Our parades are a celebration of our heritage, not an excuse for anyone to criticise anyone else's faith or beliefs," he said.