Glasgow Airport unveils new logo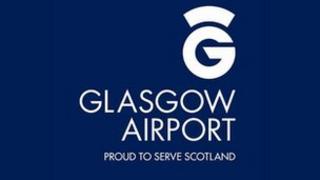 Glasgow Airport has unveiled its new logo and slogan as part of a £17m redevelopment.
The redesign is part of refurbishments to the terminal ahead of the 2014 Commonwealth Games.
The new symbol aims to give a sense of arrival in Glasgow, with a twist on the iconic Scottish thistle.
Amanda McMillan, managing director of the airport, said the logo sent out a clear message and commitment to the games.
She added: "For many, Glasgow airport is their first and last impression of Scotland and the concept of the new brand also centres on creating a 'Sense of Place'.
"We recognise the need to have a strong, identifiable personality, which positions the airport within the region."