'Dead' psychiatrist Anatta Nergui fit to work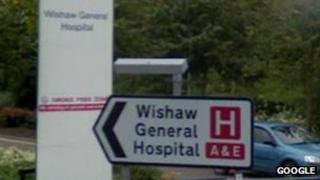 A cannabis-smoking psychiatrist who asked his secretary to tell patients he was dead has been told by a tribunal he can return to work.
Dr Anatta Nergui was formerly known as Dr Shehzad Javed before changing his name by deed poll.
As Dr Javed, he worked at Wishaw General Hospital. He is currently working as a locum for Derbyshire NHS Trust.
A review hearing ruled he was now fit to return to unrestricted practice.
They said the medic had "gained full insight into his behaviour".
The Medical Practitioners Tribunal Service heard how he told a colleague: "Tell everyone that Shehzad Javed died in peace."
In June 2009 he refused to go into work and made the bizarre phone call to his colleague and added: "It's not a suicide of the body, but a death of the mind."
He also sent two secretaries £100 gift vouchers thanking them for "being in his life".
Worried colleagues at the North Lanarkshire hospital were so startled they phoned the emergency services.
When police arrived at Dr Nergui's home on 9 June 2009, they found several cannabis plants and evidence that he had been smoking the drug.
Dr Nergui was called before his professional regulator in 2011 and admitted to growing and smoking cannabis as well as making the phone call and failing to see a psychiatrist a few days later.
He was allowed to continue working under conditions for 18 months and at a review hearing last year they were varied but extended for another 12 months.
At a further hearing, the panel was told Dr Nergui was now employed as a locum doctor by the Derbyshire NHS Trust after moving away from Scotland last year.
Grew cannabis
The panel agreed to remove his conditions and allowed him to return to work without restrictions.
Chairwoman Carrie Ryan-Palmer said: "It is clear, from the evidence provided to the panel, that you are making strenuous efforts to keep your clinical knowledge and skills up to date.
"The panel is satisfied that two consecutive periods of conditional registration have enabled you to gain full insight into your behaviour.
"In all the above circumstances, therefore, the panel has determined that your fitness to practise is no longer impaired by reason of your misconduct."
The General Medical Council (GMC), represented by Simon Phillips QC, presented evidence to the panel of Dr Nergui's compliance with conditions and continuing professional development.
He said: "Our position is that it is a matter for the panel whether or not the doctor's fitness to practise is impaired currently, having regard to the information both by the way of background and the evidence before it."
Dr Nergui addressed the panel only to say: "I think my only reason for bringing myself here today was to show the panel I'm here and it seemed to me that the previous panels made a reference that there was a lack of insight, that I had not engaged in previous meetings."
'Nameless one'
The 2011 hearing was told that Dr Nergui informed a secretary he had smashed his mobile phone against a wall because he did not need it any more and cancelled an order for a computer printer for his office, saying he had ordered it "out of greed, not need".
He was taken into custody on 9 June 2009 and assessed at Crosshouse Hospital, Kilmarnock, where he told a doctor he had smoked some home-grown cannabis the previous night and that he had used cannabis in the past.
The psychiatrist also admitted to drinking a bottle of vodka every one to two weeks.
During that interview, Dr Nergui said Dr Shehzad Javed had died and for the remainder of the conversation, he referred to Dr Javed in the third person.
He referred to himself as "Nergui - the nameless one".
Dr Nergui worked as a locum consultant psychiatrist for NHS Lanarkshire and NHS Ayrshire between 2004 and 2009.
At that time he was known as Dr Shehzad Javed until he officially changed his name to Anatta Nergui by Deed Poll on 3 August 2009.
He did not work in medicine for several years after he left his job in 2009 and took up his most recent post in March this year.