Riverside Inverclyde 'fails' on jobs and investment targets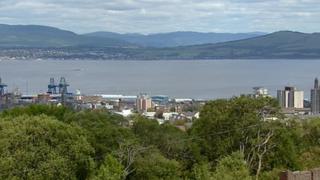 A publicly funded urban regeneration firm may face an overhaul over shortcomings in meeting targets on inward investment and job creation.
Riverside Inverclyde was set up in 2006 to create thousands of new jobs and homes and lever in private investment.
A mid-term review shows it has only achieved a small fraction of these targets for its £59m of public funding.
One of its partners, Inverclyde Council, is now proposing changes to the firm's management structure.
The aim of Riverside Inverclyde was to help regenerate the area, which had become economically depressed with the decline of heavy industries.
It was envisaged that the agency would operate for about 10 years, during which time it would achieve ambitious targets such as the creation of 2,600 jobs, 2,285 homes and attracting about £300m of private investment.
To help achieve these goals, the firm was to be given £93m of public funding by the Scottish government and Scottish Enterprise.
A mid-term review of the agency's performance was carried out on behalf of the council and Scottish Enterprise earlier this year by external consultants.
It found that while Riverside Inverclyde had received about £59m of public funding so far but it had fallen well short in its original targets.
BBC Scotland understands that the report, which has yet to be published, shows that since 2006, the agency is credited with the creation of just 191 jobs and 121 new homes.
It also shows that £3.6m of private investment has been levered in - just over 1% of the original 10-year target.
The report also highlighted some achievements by Riverside Inverclyde, such as the development of Riverside Business Park, enhancements to James Watt Dock and improvements to parts of Greenock and Port Glasgow town centres.
Inverclyde Council, which is a major funder of Riverside Inverclyde, is now proposing an overhaul of its operations.
If these are agreed, the board of the regeneration firm would be retained but discussions would take place on its future composition.
The management structure of the firm would also be reviewed and closer monitoring and reviews of it operations would be put in place.
The council is also proposing that both bodies develop a two-year regeneration plan and key economic staff work more closely together.
Inverclyde's environment and regeneration convener, Councillor Michael McCormick, said: "This mid-term review gives all of the partners a chance to take stock and see what's working well and what areas we need to change.
"It's clear that in some areas Riverside Inverclyde has worked well and also that we've faced some tough economic conditions.
"We now wish to focus on delivering a single regeneration and economic development operating plan geared towards the opportunities and financial picture we face today.
"That way we can make sure that we work together to maximise the impact of our work."
A spokesman for Scottish Enterprise said: "We remain committed to working with regeneration companies, including Riverside Inverclyde, to create economic opportunities in communities across Scotland."
No-one at Riverside Inverclyde could be contacted for comment.