Two more Legionnaires' cases identified in Renfrew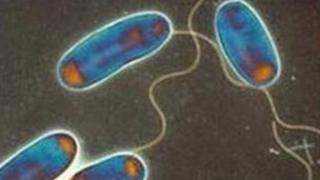 A further two cases of Legionnaires' Disease have been identified in the Renfrew area.
This brings the total number of cases in the area to 10, since the infection was identified at the end of June.
One of the latest cases is being treated in hospital and is recovering. The other case is responding well to treatment at home.
All the previously reported cases have fully recovered. The source of the infection is not yet known.
NHS Greater Glasgow and Clyde (GGC) said all active water cooling towers in the Renfrew area had been treated with chemicals that kill the legionella bacteria as a precautionary measure.
A number of towers have also been sampled for the legionella bacteria.
Dr Gillian Penrice, NHS GGC consultant in public health, said: "We have notified all community GPs and our frontline hospital teams to keep this outbreak uppermost in their minds when dealing with patients displaying symptoms of headache, fever, dry cough, breathing difficulties, stomach pains and diarrhoea."
Anyone with these symptoms is urged to contact NHS 24 or their GP.