Javaid Ali murder trial: 'Row in shop' before stabbing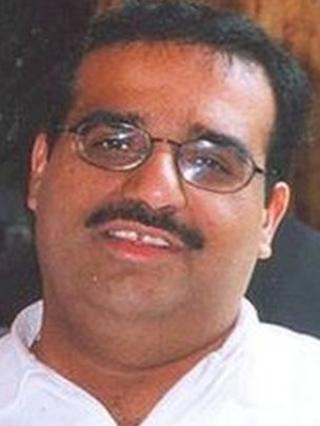 A 10-year-old boy has told the Javaid Ali murder trial that he saw two men arguing with the shopkeeper shortly before he was fatally stabbed.
The boy told the High Court in Glasgow that the two men were in Mr Ali's shop when he bought juice and chocolate.
He agreed they appeared to be trying to get alcohol cheaper than it cost and said Mr Ali appeared "annoyed at them".
Lee Anderson, 31, denies killing Mr Ali, 48, at Sunshine Grocers, Green Road, Paisley, on 15 June last year.
He has lodged special defences of alibi and incrimination, naming five others.
The boy told the High Court in Glasgow that he went to the grocers at about 17:00 to spend £2 his grandmother had given him for winning an award at school.
He told prosecutor John Scullion that he spent £1.99 on juice and chocolate and received 1p in change.
Final transactions
The jury had earlier heard that the £1.99 was rung up on the till at 17:01.
There were two further transactions one for 35p at 17:03 and one for 60p at 17:05 which was cancelled.
The jury was told that Mr Ali phoned 999 at 17:07 after being stabbed in the neck.
The shopkeeper was taken to hospital unconscious and died there on 29 June 2012.
In evidence, the boy said there were two men in the shop when he entered and they let him get served first.
He told Mr Scullion that the men seemed to be arguing abut the price of alcohol.
Mr Scullion asked him: "Did the two men appear to be trying to get alcohol cheaper than it cost," and he replied: "Yes."
Victim 'annoyed'
The prosecutor then said: "Were they being nice the way they spoke to Javaid Ali," and the boy replied: "No the attitude they gave him I was astonished. I think they were trying to buy vodka."
The witness said Mr Ali told them they had to pay the correct price.
The primary schoolboy was asked how Mr Ali seemed and said: "A bit annoyed, a bit ratty with these two. He was fine with me and wished me a good day and I did the same to him."
The boy added: "I had an instinct something might happen. As I walked home I kept looking back."
He told defence QC Brian McConnachie that he had looked back at the shop between 10 and 12 times and saw nobody leaving or entering the shop.
In other evidence, another of the five men incriminated for the murder of Mr Ali, John Lochrie, denied that he had stabbed the shopkeeper in the neck.
The trial before temporary judge Sean Murphy continues.