'Innovative art' set for Glasgow International festival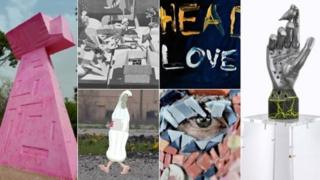 Artworks jumping out of their frames, a body artist who will paint art onto your fingernails and a gallery in which food and art are offered in equal measures.
These are just some of the innovative art exhibitions on the agenda for next year's Glasgow International.
The biennial festival has expanded dramatically since it first began six years ago.
The already burgeoning art scene (much of it already known internationally) is augmented by artists from as far afield as Canada, Puerto Rico, Palestine and Brazil.
Group exhibition
This year's 18-day programme will include the first major solo show in an institution for Serbian artist Aleksandra Domanovic (in the Gallery of Modern Art - Goma), while British artist Simon Martin will produce a series of works responding to the collection in Kelvingrove Museum.
Glasgow-based artist Sue Tompkins will create an exhibition and performance in Goma, inspired by concrete poetry and typewriter art, while body artist Alistair Frost will showcase new paintings alongside a functioning nail bar where he will paint his work onto visitors' nails.
Meanwhile, the studio warehouse SWG3 will host a group exhibition that features artworks which jump out of their frames.
Elsewhere, there will be shows featuring work by 80 artists, among them Bedwyr Williams, Jordan Wolfson, Michael Stumpf, Avery Singer, Anthea Hamilton and Nicholas Byrne.
Most of what is on display will be new, or not shown previously in the UK.
It is the first festival under new director Sarah McCrory, who previously curated events at the Frieze Art Fair, including a number for the cultural side of the Olympics.
In Glasgow, she will offer a similar strand as part of the Commonwealth Games cultural programme. Among them, a new public artwork for a disused site near the Emirates Arena.
Making the Most of Dalmarnock will involve architects, artists and the local community in making a work of art and an outdoor learning and play area.
Further details of the programme for the 2014 Glasgow International - which begins on 4 April 2014 - will be announced early next year.