All 1 Smile owner George Campbell suspended by General Dental Council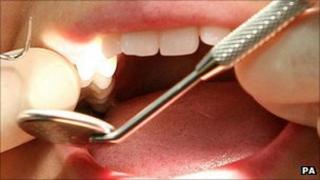 A dental tycoon who allowed unqualified staff to give children unnecessary treatment at clinics across the west of Scotland has been suspended.
George Campbell, owner of the All 1 Smile chain of clinics, also repeatedly failed to check the qualifications of staff who carried out orthodontic work.
He has practices in Glasgow, East Kilbride, Greenock, Cumbernauld, Hamilton and Kilmarnock.
Campbell has been suspended for nine months following a tribunal.
The General Dental Council (GDC) heard how Campbell had mistakenly extracted patients' healthy teeth and referred children for hospital surgery which they did not need.
He was referred to the GDC in September 2011 following a series of complaints that were made about the treatment of 30 patients spanning over a decade.
'Grave failings'
The tribunal was told that between July 2001 and August 2011, Campbell repeatedly referred children for unnecessary extraction and surgery.
They also heard how he had failed to ensure staff were fully qualified, with up to 18 employees carrying out treatment before they had completed their orthodontic training.
It was reported an employee had even provided orthodontic treatment without having any dental qualifications or training.
Stewart Goulding, chair of the conduct and competence committee, who made the decision said: "There are a number of grave failings in his clinical practice highlighted by the findings.
"There are, particularly in the areas of radiography, treatment planning and treatment undertaken, and his employment of unregistered and unqualified staff.
"Taking these wide-ranging failings together with his departures from specific guidance and standards within the profession, the committee had little difficulty in determining that the facts found proved amounted to serious misconduct"
Giving evidence, Campbell had told the GDC there was a lack of guidance from the regulatory body when it came to his newly-qualified staff.
He said: "There was no real guidance or supervision so we always aimed to provide the training and guidance ourselves.
"I was supervising new staff on a daily basis and with any queries on the supervision or tasks we would phone the GDC to check."
Campbell had denied the bulk of the allegations against him at the hearing in London.
A series of charges were not proven including a failure to ensure patient numbers could be adequately served at his clinics.