Patients told of infection probe into Ayrshire dentists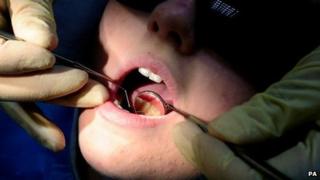 Thousands of dental patients in Ayrshire are being notified about an investigation into poor infection control standards at two surgeries.
NHS Ayrshire and Arran is writing to just over 5,600 patients who used the surgeries at Millbank Lane, Cumnock, and Mill O'Shields Road, Drongan.
The health board said both surgeries belonged to the same practice.
Its investigation concluded the risk of infection was very low and patients did not need to take further action.
Dr Elvira Garcia, consultant in public health medicine at NHS Ayrshire and Arran, said: "We have worked closely with local and national experts in this investigation and we have jointly concluded that the risk of infection to patients is very low, and there is no need for patients to take any action.
Voluntary closure
"However, we believe that patients have a right to know about this investigation, so we have written to them to ensure they are informed."
The health board said that its investigation found that some of the infection control precautions used at both surgeries "did not consistently meet the high standards expected of dental practices".
It asked the practice to close voluntarily while the investigation was carried out and improvements to infection control procedures were put in place.
The health board said the practice had co-operated with the investigation and had re-opened, although it would continue to be monitored.
Patients who require further information or assistance are asked to call the free telephone helpline: 0800 085 8531.
Patients who believe they should receive a letter, but have not by 26 October, are asked to contact the helpline.