Man arrested over Glasgow death of Francis McGraw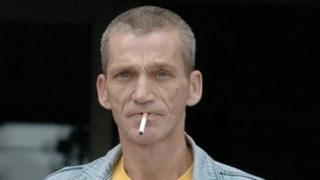 Police have arrested a 40-year-old man in connection with the death of Francis McGraw at his home in the east end of Glasgow.
The man arrested is in police custody and is expected to appear at Glasgow Sheriff Court in December.
Mr McGraw, 55, was found dead in his flat in Hermiston Road in the Springboig area on Sunday.
He was the brother of Tam McGraw, the late Glasgow crime boss.
Tam McGraw died from a suspected heart attack in 2007.
Detectives have said there was nothing to suggest Francis McGraw's death was related to organised crime.
Mr McGraw sometimes used an alternative spelling of his name - McGrow.
Police officers have thanked the local community for their support during the investigation.