Glasgow Science Centre tower 'to reopen next year'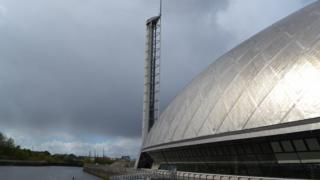 The Glasgow Science Centre tower will reopen next summer, almost four years after visitors were last allowed up it.
The 127m tower opened in 2001 but has been riddled with problems and has been shut for more than 80% of its life.
Science centre bosses said a £1.8m renovation would include repairs to the thrust bearing and replacement of the existing lifts.
Some of the money will come from a settlement reached with the original contractors earlier this year.
The rest of the cost will be met by Scottish Enterprise and Glasgow City Council.
When it was built, the 416ft (127m) steel and glass tower, the highest freestanding building in Scotland, was the only structure in the world able to rotate fully through 360 degrees from base to top.
However, the £10m tower was plagued by problems from the start.
It missed its opening day in June 2001, as well as the visit of the Queen to the science centre a few weeks later.
When it did finally open, it was found the glass elevators were too heavy, causing the mechanism to overheat.
It then closed for two-and-a-half years because one of the ball bearings which took the weight off the whole structure had sunk.
To fix the problem the whole tower had to be lifted on to temporary supports.
The ball-bearing problem continued to dog the tower throughout the decade, with numerous lengthy closures.
But one of the most dramatic incidents came during a rare period of operation in January 2005, when 10 people, including four children, were trapped in the glass lift for five hours after a cable carrying their lift snapped and the emergency brakes were triggered.
The tower has now been closed since August 2010 but earlier this year the science centre announced it had settled a lengthy court action with the contractors and had received "substantial" compensation.
The science centre's chief executive Stephen Breslin said he had been working with experts since the settlement to find solutions to the problems.
He told BBC Scotland: "It has been a long and complex case but we are delighted that now we have come to the end of that we can focus on the solution.
"The good news is we are going to have a tower that is fully operational, as designed, which will be opened by next summer."
Mr Breslin added: "The views from the top are spectacular and give a unique outlook over the city for Glaswegians and visitors to our city alike.
"As a 'world first', Glasgow Tower pushes the boundaries of engineering and is an iconic machine that Glasgow should be proud of."