Rare problem blamed for Glasgow health board IT crash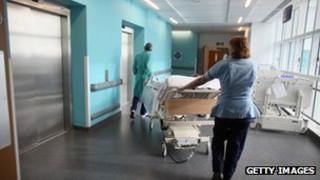 A "rare corruption" in a vital computer programme has been blamed for a systems crash which hit hospital appointments at Scotland's largest health board.
An independent investigation into the NHS Greater Glasgow and Clyde (GGC) crash, however, could not establish "the exact root cause of the failure".
The report makes eight recommendations for improvements.
The systems crash, between 1 and 3 October, resulted in 709 patients having hospital appointments postponed.
The independent investigation into the system failure was commissioned by NHS GGC and the Scottish government.
It confirmed that the source of the problem related to a rare corruption in a programme known as Active Directory.
Disaster plan
Active Directory is a commonly used part of IT infrastructure which manages how users are given access to the various services they have permissions for.
The report stated that, despite the rarity of the failure, it already featured in NHS GGC's contingency plans.
It said the procedure the health board used to recover the system was the one which was set out in its disaster recovery plan.
The review team, led by the Scottish government's chief technology officer, Andy McClintock, also reported that NHS GGC implemented and managed Active Directory well, and in line with industry good practice.
The report praised the health board IT team and its suppliers for the professional handling of the incident and confirmed that no data was lost.
Lessons learned
Health Secretary Alex Neil said: "This review has shown that the technical team took the appropriate actions and did everything possible to restore services under enormous pressure.
"A number of recommendations have come from this review and I note that NHS Greater Glasgow and Clyde are taking steps to implement all of the recommendations promptly.
"I am keen that lessons can be learnt across Scotland and the report has also been shared with the technical leads in all other health boards."
Mr Neil said he had "instructed a robust review" of IT systems and back-up plans "right across the health service in Scotland".
He said this would be reported back to him by the end of the year.
NHS GGC chief executive, Robert Calderwood, said: "I am pleased that the review team were able to satisfy themselves that NHS GGC's IT infrastructure is sound and well managed and that the fault was not one that could have been foreseen.
"The recommendations made in the report will be implemented in full and a number have already been completed."