Glasgow City Council must learn from George Square row, says Audit Scotland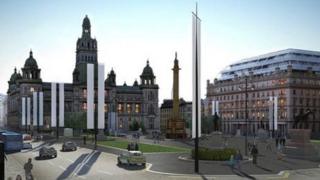 Scotland's largest council needs to learn lessons from the debacle over the redevelopment of George Square, the public spending watchdog has said.
Audit Scotland said Glasgow City Council incurred costs over the scheme which never came to fruition.
A plan for a radical revamp of the square was abandoned in January after an international design contest.
Council leader Gordon Matheson was cleared of misconduct after a complaint was made to the standards commissioner.
In its latest annual report on the council, Audit Scotland devotes about a page to the George Square scheme.
'Radical redesign'
It said the governance procedure for the project was proper but adds: "The council incurred costs for itself and third parties in developing proposals for the radical redesign that ultimately did not come to fruition."
The report said the council should complete a review of lessons learned from its experience so far in the project.
It said: "In line with best practice, business cases incorporating a procurement strategy that assesses the risks and benefits of applicable procurement options should be prepared for all major projects."
Council leader Gordon Matheson was an enthusiastic backer of the idea of a radical redevelopment of George Square.
He spoke of turning it into one of Europe's leading civic spaces.
There was controversy over a suggestion that statues could be removed from the square with only the Cenotaph remaining.
An international design competition was held and six shortlisted proposals went on display.
But when the expert panel - chaired by Mr Matheson - reached a decision, he announced the radical redevelopment would not go ahead.
He said it had become clear there was no public appetite for such a change.
Instead a modest revamp of the square took place over the summer. The red tarmac was removed and there are now more green spaces.
In the weeks which followed, a complaint was made to the police while the Royal Incorporation of Architects in Scotland complained to the public standards commissioner.
The police investigation was dropped while the standards commissioner concluded Mr Matheson had not broken any rules.