Glasgow helicopter crash: Air accident investigators begin work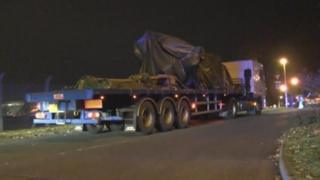 Experts at the Air Accidents Investigation Branch (AAIB) have started their examination of the police helicopter that crashed in Glasgow.
Nine people died when the aircraft fell through the roof of the Clutha bar in the city centre on Friday.
The wreckage of the Eurocopter arrived at the AAIB base at Farnborough, Hampshire, late on Tuesday.
Investigators have already confirmed that no mayday was made before the crash.
The helicopter was also not equipped with a "black box" flight recorder.
First Minister Alex Salmond has told the Scottish Parliament a preliminary report by the AAIB was expected "within the next few days".
Criminal proceedings
Bond Air Services, the company which leased the aircraft to Police Scotland, will meet with the Scottish Police Authority later to the discuss the disaster.
The Crown Office and Procurator Fiscal Service (COPFS) has issued guidance on how the circumstances of the crash will be investigated, stressing that although the police and AAIB are gathering evidence about the crash, the COPFS is in charge of the investigation and will decide whether criminal proceedings will be pursued.
John Logue, procurator fiscal for the East of Scotland, told BBC Radio Scotland's Good Morning Scotland programme the AAIB investigation would take priority for the moment, and would inform how the COPFS proceeds.
He said all three organisations - the police, COPFS and the AAIB - would work closely together to share information and keep the families of those who died updated with the progress of the investigation.
He added: "The priority is with the AAIB to carry out their detailed technical investigation in order to establish what happened to the aircraft on Friday night.
"The responsibility of the AAIB is not to apportion blame, but to establish from a technical point of view what has happened and what recommendations can be made to ensure air travel is as safe as possible.
"Our responsibility is to investigate all sudden and unexplained deaths, in particular in relation to incidents like this, with a view to determining at some point in the future whether or not there should be a criminal prosecution or a Fatal Accident Inquiry (FAI)."
However, Mr Logue stressed that an FAI was not automatic.
He said: "A lot of work has to be done by a number of different organisations before any decision is to be taken.
"It is a high priority for us to keep the families of those who have died as well-informed as we can throughout the investigation."