Glasgow helicopter crash: Funeral for PC Kirsty Nelis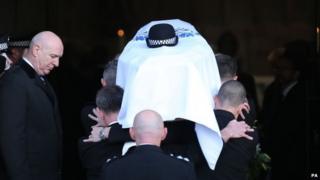 A requiem mass has been held for PC Kirsty Nelis, who died in the police helicopter crash in Glasgow.
Police colleagues joined mourning relatives at the funeral.
The service took place at St Andrew's Cathedral in Glasgow, a short distance from the scene of the crash at the Clutha bar.
PC Nelis, 36, was one of three people in the helicopter who died, along with PC Tony Collins and civilian pilot David Traill.
Six people inside the bar on 29 November were also killed.
They were Gary Arthur, Samuel McGhee, Colin Gibson, Robert Jenkins, John McGarrigle and Mark O'Prey.
Lone piper
Ten uniformed police officers lined the entrance to the cathedral and saluted as PC Nelis' coffin was carried in to the sound of a lone piper.
A police hat sat upon the coffin, which was draped with a white flag bearing the Police Scotland emblem.
First Minister Alex Salmond and Justice Secretary Kenny MacAskill attended the service, led by the Archbishop of Glasgow Philip Tartaglia.
Glasgow Lord Provost Sadie Docherty and council leader Gordon Matheson were also present.
A message on the back of the order of service said: "The family wishes to thank all relatives, friends and colleagues for their attendance here today, and for the overwhelming kindness, love and support shown at this sad time."
'Untimely loss'
Clutha owner Alan Crossan and manager Saverio Petri, who was using crutches, attended the mass, where mourners heard Bible readings and sang hymns in memory of PC Nelis.
The Archbishop said: "We offer our deepest sympathies to Kirsty's husband Mark, to her mum and dad, to her two brothers, and to all her relatives and friends.
"We know that you have been devastated by Kirsty's tragic, sudden and untimely loss.
"Together with you, putting our hope in Jesus, we pray for her eternal rest.
"And in a special way we offer our prayerful sympathies to her colleagues in the police service."