Cumbrae marine research station given £1m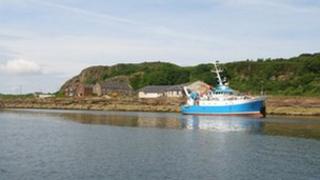 A scientific research centre on the Isle of Cumbrae, which was threatened with closure, has been awarded £1m by Scottish and local government.
The University Marine Biological Station Millport (UMBSM) had its funding withdrawn from The University of London in December 2012.
Ownership of the site on the island in the Firth of Clyde is to transfer to the Field Studies Council (FSC).
FSC said the cash was "critical" for securing the centre's future.
A year ago, the Higher Education Funding Council for England withdrew the £400,000 which it gave London University annually to run the facility.
It closed in October 2013 and is due to re-open, under FSC ownership, in February 2014.
Robert Lucas, FSC chief executive officer, said the funding would ensure a "new and sustainable future for the centre, building on its international reputation for marine science field teaching".
He said: "The work to ensure the centre can re-open in February 2014 has only been made possible by the goodwill of all parties, the strong support of the cabinet secretary for education and lifelong learning and the commitment of the Scottish funding agencies."
Local economy
North Ayrshire Council has been awarded £500,000 from the Regeneration Capital Grant Fund, which is funded and run jointly by the Scottish government and Cosla.
A further £500,000 has been allocated by the Scottish Funding Council to Glasgow University for its role in delivering services.
Education and Lifelong Learning Secretary Michael Russell said: "Over the last few months we have worked very hard with partners including North Ayrshire Council, Cosla, the University of Glasgow and the Field Studies Council to find a sustainable way to rescue the Millport marine base and safeguard its contribution to the local economy."
He said those efforts were paying off and this was "significant success for all those who have played a role in developing plans".
Councillor Willie Gibson, leader of North Ayrshire Council, said: "Our own commitment of up to £1.5m in capital investment, along with this latest round of regeneration funding from the Scottish government and Cosla and a contribution from Highlands and Islands Enterprise demonstrates just how important this facility is - not only for the island community, but for North Ayrshire and indeed Scotland as a whole."
Lang Banks, director of conservation group WWF Scotland, said: "It's great news the research centre at Millport is to reopen. We hope now that the marine lab has a long future ahead of it as an important scientific and educational resource. Well done to all those who worked to secure this outcome.
"If we are really serious about seeing our marine environment protected and improved then establishments such as this would never have been put at risk in the first place."