Glasgow helicopter crash: Legal action begins against Bond Aviation Group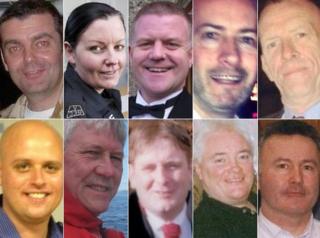 Lawyers representing some of those affected by the Glasgow helicopter crash have begun legal action against the aircraft's operator.
Ten people died when the Police Scotland helicopter crashed into the roof of the Clutha pub on 29 November last year.
Legal firm Irwin Mitchell has sent a letter of claim to the legal representatives of Bond Aviation Group.
It also reiterated calls to improve flight safety.
The firm is seeking compensation for relatives of those who died, as well as people who were injured.
One of the law firm's clients is John McGarrigle, whose father, also called John, died in the tragedy.
It has not yet been established what caused the crash, although investigators have said initial evidence ruled out major engine or gearbox failure.
Irwin Mitchell partner Elaine Russell said: "Our clients have faced a difficult and traumatic time across the Christmas period after losing loved ones in the Clutha tragedy and we continue to eagerly await further information from the Air Accidents Investigation Branch (AAIB) regarding the progress of its investigations.
"However, we have now issued a letter of claim to Bond Aviation Group which, as the owner and operator of the aircraft, is legally liable for the deaths of the police passengers and the ground victims in the pub, as well as those who were injured in the pub, under a legal concept known as strict liability."
Black box call
She added: "We are absolutely determined to ensure that those who lost relatives in this crash not only get the financial support they may need following the incident, but also the answers they are desperately seeking in relation to the crash."
Ms Russell told the BBC the action was being taken under Section 76 (2) of the Civil Aviation Act 1982, which holds the owner of an aircraft liable for "material loss or damage" which their aircraft causes "to any person or property on land or water".
She was unable to confirm how many relatives or survivors of the crash her firm was acting for, citing client confidentiality.
The legal team has also launched a campaign demanding the installation of black box recording equipment to be standard on all commercial passenger-carrying helicopters.
Air accident investigators have already said the helicopter pilot made no mayday call and that no black box data recorder was on board.
The helicopter crew of pilot David Traill, Pc Tony Collins and Pc Kirsty Nelis died in the crash, as well as seven customers in the pub.
They were John McGarrigle, Mark O'Prey, Gary Arthur, Colin Gibson, Robert Jenkins, Samuel McGhee and Joe Cusker.
More than 100 people were inside the city centre bar at the time and more than 30 were taken to hospitals across Glasgow after the crash.