Father and son die in River Clyde car plunge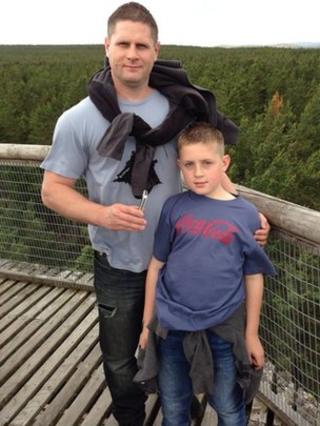 A father and his nine-year-old son have died after their car plunged off a road and into the River Clyde near Hamilton.
The emergency services received reports at 11:15 on Saturday that a car had come off the A725, close to the Raith Interchange, and gone into the water.
Divers recovered Christopher Groves, 38, and his son Connor from the water, but they died at the scene.
Police said the family, who live in Blantyre, had been told about the accident.
Council worker John McQuaid was in the area with colleagues when it happened.
He said: "We were down here yesterday because the pathway was needing a repair, and we left to get more equipment from the depot."
When they returned from the depot, he said traffic was backed up.
"A lorry was parked on the bridge, and the driver was standing behind it, making sure everyone was going to the outside lane," he added.
Mr McQuaid said poor visibility created "terrible" driving conditions.
"The sun was very low, it was really bright, you couldn't see," he said.
"When we got back we weren't allowed to go back onto the footpath because it'd been taped off by police."
A report will be submitted to the procurator fiscal.