Quarriers charity aims to close Ayrshire school and children's homes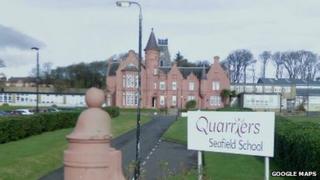 The social care charity Quarriers is proposing to close a school and two children's homes in Ayrshire with the potential loss of up to 69 jobs.
It said falling demand for places at Seafield School in Ardrossan meant it was no longer financially viable.
The homes, Merton House in Largs and Williamfield in Irvine, would also close as both provide support for children in placements at Seafield.
Quarriers said closures would not occur until the end of the school year.
Paul Moore, chief executive of Renfrewshire-based Quarriers, said: "Demand for places at Seafield has been decreasing and is forecast to continue to do so.
Unsustainable losses
"There are currently 14 pupils in an education provision which has the capacity to take 25 - and it is no longer financially viable.
"We have made every effort to put Seafield on a more sustainable footing - including reconfiguring the provision - however, it has continued to lose money and is forecast to have a significant deficit over this financial year."
Mr Moore said the charity was "simply unable to continue absorbing such losses".
He said the proposed closure of Seafield would impact on Merton House and Williamfield homes which "provide support for some children on residential placements" at the school.
Mr Moore said: "We are committed to ensuring all the children at the school and in the two children's homes receive the highest quality care and support during this difficult time.
"If the decision is taken to close the services then this would not happen until the end of the current academic year, and we would work closely with other providers and placing local authorities to ensure the children and young people were supported during their transition.
"All 69 members of staff at Seafield, Merton House and Williamfield will be consulted on the proposal and their responses will be carefully considered. Quarriers will also be consulting collectively with the trade unions as representatives of the staff potentially affected."
Mr Moore said the charity would make "every effort" to support and find redeployment opportunities for staff affected by any closures.
'Potentially devastating'
The charity's announcement was described as "devastating for all involved" by Katy Clark, Labour MP for North Ayrshire and Arran.
"Not only is there the very real prospect of significant numbers of job losses of people who live in the local community but many local shops and businesses benefit from Quarriers," she said.
"The support that the children who attend both Seafield and Merton House may not be replaced with a comparable service elsewhere.
"The children who attend these facilities have significant additional support needs, and the potential disruption could have a major impact on their well being and I cannot see how it is in their interests."