New £15m revamped Glasgow Royal Infirmary labs open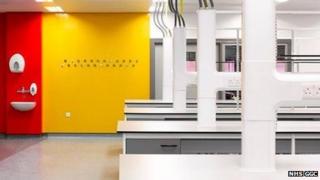 A £15m scheme to revamp laboratories at Glasgow Royal Infirmary which help with patient diagnosis has been completed.
The work overhauled the hospital's University Tower building, which has been renamed the New Lister Building.
The facility, and the Lister Lab, are named after Joseph Lister, who is famous for his ground-breaking work in the prevention of wound infection.
The Lister Building processes hundreds of thousands of specimens requested by GPs and hospitals in Glasgow.
Aileen MacLennan, NHS Greater Glasgow and Clyde's director of diagnostics, said: "This is another significant investment in laboratory medicine which will see NHS Greater Glasgow and Clyde equipped with some of the most modern up-to-date laboratory facilities in the world.
"Laboratory services in Glasgow and Clyde are undergoing significant improvements in both accommodation facilities and equipment replacement.
"The refurbishment of the New Lister Building at Glasgow Royal Infirmary is the final phase in the current strategy delivering modern, state-of-the-art lab facilities for the people of Glasgow and Clyde."