Search and Rescue Sea King in warning light landing in Ardrossan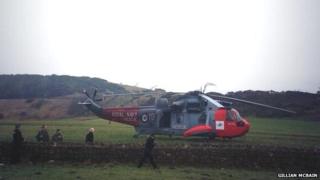 A Royal Navy search and rescue helicopter made a precautionary landing in North Ayrshire after a warning light activated in the cabin.
The Ministry of Defence said a temperature gauge warning prompted the controlled landing in a field in Ardrossan at about 11:34 on Friday.
A spokeswoman said this was standard procedure in such circumstances.
The gauge on the Sea King helicopter, which flew from HMS Gannet at Prestwick, has now been replaced.
The crew included two pilots, one navigator and one winchman.
A statement from HMS Gannet said: "We can confirm that a Royal Navy Sea King Mark 5 helicopter from HMS Gannet made a precautionary landing just north of Ardrossan in a field adjacent to the Ardrossan to Largs road on Friday January 17 2014 at approximately 11.25am after a potential technical issue was identified by duty crew members.
"The landing was smooth and unhurried. The aircraft was not involved in a live emergency call-out at the time - it was en route to routine training.
"At no time was there any danger to the aircraft, crew or the public - there are no injuries.
"The issue relates to observations noted by the crew of fluctuations in a temperature gauge."
An update from HMS Gannet later added: "Engineers from HMS Gannet attended the aircraft at the landing site and replaced the temperature gauge.
"The crew then tested the aircraft, with no repeat of the issue.
"The aircraft left the landing site at 14:45 and arrived back at HMS Gannet's Prestwick base at 14:55.
Engineers completed final tests at the base and the aircraft is now operational again.
Police in North Ayrshire said: "We can confirm that about 11:34 hours today a helicopter landed in Ardrossan near to the Montfode Roundabout.
"This was purely a precautionary measure by the crew. The A78 was unaffected and remains open."