Bloody Sunday march takes place in Glasgow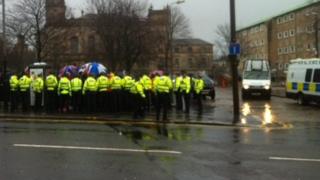 About 300 people have taken part in a march in Glasgow to mark the events of Bloody Sunday.
A small group of opponents gathered for a counter-demonstration near Glasgow Cathedral and jeered as the parade passed.
The organisers of the march had hoped to route it from the west end to the city centre.
Glasgow City Council insisted it passed east of the city centre because of concerns about public order.