Alert over Superman 'ecstasy' tablets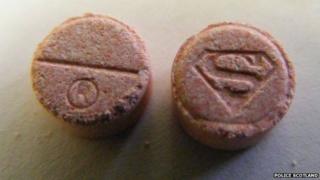 A warning about dangerous ecstasy-type tablets marked with a Superman logo has been issued by police in the west of Scotland.
The tablets are pink with the superhero symbol on one side and a half-score line on the reverse.
Police Scotland said tests had found them to contain methoxyamphetamine (PMA).
The force said PMA had previously been connected to a number of serious adverse reactions and fatalities.
Anyone with information about the distribution or production of the tablets was asked to get in touch with police or contact Crimestoppers anonymously.