DNA link snares taxi sex attacker Patrick Cullen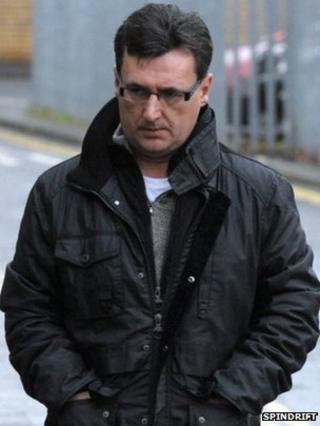 A taxi driver has been convicted of sexually assaulting a young woman after he was linked to the crime through a DNA sample from a relative.
Patrick Cullen, 44, attacked his victim, 24, and forced her to perform a sex act in a lane in Milngavie, East Dunbartonshire, in February 2011.
Despite a police e-fit appeal, Cullen was only traced when a relative appeared on the national DNA database.
At the High Court in Glasgow, sentence on Cullen was deferred.
The jury heard how Cullen, of Moodiesburn, North Lanarkshire, had been working for the former Strathclyde Radio Cars at the time of the attack.
'Rude questions'
He picked up his victim in Glassford Street, Glasgow, in the early hours of 19 February 2011.
Soon into the journey, Cullen - who claimed his name was Gary - began quizzing his passenger on her sexuality and asking "rude questions".
The woman, who cannot be named for legal reasons, told the court: "He was going about how girls have sex, things like that. I felt uncomfortable - I don't like when people ask questions like that."
Cullen then told the worried woman that he was "feeling horny". He soon drove his private hire Chrysler vehicle into a quiet area in Finlay Rise, Milngavie, before halting the vehicle.
Recalling her ordeal, the woman said: "He told me to get into the back of the car. I was scared, but I did it."
Cullen then indecently assaulted his victim and made her perform a sex act on him while ignoring her loud sobs.
She only escaped when he dropped her home and demanded she hand over the £7 fare.
The victim called police and a hunt began to catch Cullen.
E-fit resemblance
DNA was found near the scene and the woman was also able to help construct an e-fit of her attacker - which bore a resemblance to Cullen.
He went undetected until more than 18 months after the attack when a relative - for a reason unstated in court - had a DNA check.
It is thought the DNA had similarities to that discovered at the scene and police eventually arrested Cullen in September 2012.
During his trial, Cullen insisted that the woman agreed to what happened in his car and that she "enjoyed" it.
He said: "It was two consenting adults performing a sex act."
Cullen also claimed - despite media appeals and the e-fit - that he had never been asked about the incident until police came to his door.
After his conviction, judge Lord Matthews warned Cullen: "In view of the nature of the offence a custodial sentence is very much on my mind at the moment."