HMS Gannet Scotland's busiest search and rescue base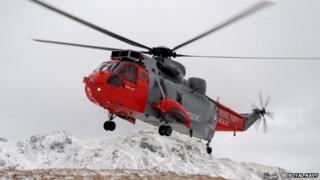 HMS Gannet in Ayrshire was Scotland's busiest search and rescue base in 2013, according to new UK government figures.
The Royal Navy crews based at Prestwick were called out 329 times and helped 327 people.
For the whole of the UK, Gannet was the second busiest base after RAF Valley in Anglesey, north Wales, which responded to 335 call-outs.
Scotland's other rescue bases are at RAF Lossiemouth in Moray and coastguard stations at Stornoway and Sumburgh.
The total call-outs across the four units last year were 878 - with HMS Gannet accounting for 43% of these.
HMS Gannet's commanding officer, Lt Cdr Andy Drodge, said he was "incredibly proud" of the base's contribution to Scotland and the UK's search and rescue organisation.
He added: "In addition, I must also acknowledge the many agencies with which we work and commend their skill and professional capabilities - in particular, the police, ambulance, fire and coastguard services, the medical authorities, the RNLI, and the enormously committed mountain rescue teams."