Faslane and Coulport staff to strike over pay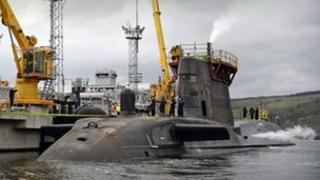 Workers at the Faslane nuclear naval base in Scotland are to stage a two-hour strike in a row over pay.
Unite said hundreds of its members at the base, and at another site in Coulport, will walk out at 10:00 on 19 February.
A work to rule, call-out ban and a ban on all non-contractual overtime will also begin next week.
The industrial action will be the first time workers at the bases have been on strike for 42 years.
There will also be a number of "staged stoppages" from 20 February onwards.
Faslane is home to the UK's fleet of Trident nuclear submarines.
The dispute has centred on staff being offered a below-inflation pay offer of 1% by employers Babcock Marine.
Any industrial action is likely to involve submarine maintenance teams and workers who monitor radiation levels.
'Fair deal'
Unite national officer Ian Waddell said: "The first mass industrial action on the Clyde in 42 years should set alarm bells ringing in the Ministry of Defence (MoD) and really crystallise the problems created by Babcock's refusal to negotiate a consolidated pay deal which it can more than afford."
"Babcock continues to bury its head in the sand by refusing our conciliation proposals and stonewalling our calls for evidence on the nature of its contract with the MoD."
He added: "A prolonged period of industrial action will severely disrupt day-to-day operations at the Faslane and Coulport base, but workers will strive to ensure the safety of the workforce, the naval base and the local communities will not be compromised.
"Over 800 workers across all aspects of the Clyde's operations have spoken collectively - they want a fair deal on pay and they want the company to negotiate with their trade union, Unite, to achieve this."
The MoD has previously stated it had "robust contingency plans" in place to deal with any strike by civilian staff at the bases.