Glasgow man Kevin Conway jailed for ex-boyfriend assaults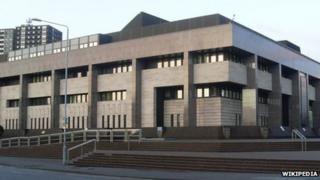 A man has been jailed for a year for battering three lovers in a campaign of abuse spanning more than a decade.
Kevin Conway, 30, attacked Paul Scrase, Mark MacDonald and Andrew Fleming while in a relationship with each of them.
His crimes only came to light after an investigation was launched following a complaint made against him by Mr Fleming.
Conway had initially denied the claims and accused the men of fabricating the accusations.
But the sheriff rejected his version and believed the three victims who gave evidence at Glasgow Sheriff Court.
The jury were informed that Conway had subjected each man to a series of verbal and physical attacks while he was in a relationship with each of them.
During one rampage he smacked Mr Scrase with a candlestick which left him needing stitches and he head butted Mr MacDonald, breaking his nose and told him: "You'll not be here when I'm finished with you."
In other attacks he threatened to have someone rape Mr Fleming and called him a dirty rat and spat in his face and repeatedly tried to strangle him - causing him to fear for his life.
His crimes only came to light when Mr Fleming reported the abuse he had suffered at the hands of Conway.
'Serious concern'
Passing sentence, Sheriff Robert Fife told Conway: "The evidence which I have accepted demonstrated a course of violent behaviour over many years."
He added: "It is unlikely these offences would have come to public attention had Andrew Fleming not reported an incident in October 2012."
The sheriff said that the number of charges and the period they cover "gives rise to serious concern".
He also noted that a background report said Conway "displayed no victim empathy."
Sheriff Fife also granted a non-harassment order for three years in respect of each victim.
Permanent disfigurement
Conway, from Glasgow's south side was convicted of 10 charges of assault including one of assault to severe injury and permanent disfigurement by breaking Mr MacDonald's nose.
Speaking after the sentencing, first victim Mr Scrase said: "Justice has been done - maybe he will learn his lesson.
"It's a great sense of relief, the sheriff has seen exactly who he is and what behaviours he had demonstrated."
He added: "When the domestic abuse task force approached me I was shocked.
"I feel relieved that the police did contact me - I didn't even realise there was such a task force out there."
He said he was too embarrassed in the past to tell anybody of the abuse he was suffering but wishes he had although didn't realise that he could still do something about it.
The court was told of an attack at the flat they shared after they had split up but were living together.
After bringing a male back to the flat Conway believed he was making a pass at Mr Scrase when he gave him a cuddle.
Mr Scrase said: "Kevin took that as him making a pass at myself and decided to go on a rampage. This is when he hit me with the candlestick which resulted in blood squirting out my head, all over the walls and things."
The trial was told of an incident when, during Conway's relationship with Mr MacDonald between December 2008 and January 2009, he head butted him in the back of a taxi on the way home from a night out.
Irate Conway flew into a rage when MacDonald forgot to pick up his jacket that was a gift from Conway's mum.
Mr MacDonald said his nose has changed shape after it was broken by his ex-partner and that it will never change back again which "devastated" him.
'Sustained violent attack'
Third victim Andrew Fleming, told of an attack Conway during 2012 while in a relationship with him.
Conway tried to strangle him on the sofa and each time he tried to get up he was pulled back down again and the attack continued.
He was hit on the face and threatened by Conway that he would get someone to rape him which "terrified him".
The final incident in October 2012 was the final straw for Mr Fleming and the attack that lead him to go to the police and sparked the investigation into Conway.
He told the court he was scared he wouldn't get out alive and also described a sustained violent attack lasting at least half an hour.
Mr Scrase said that being in a same-sex relationship put him off reporting what happened to him.
He said: "It was something that stopped me going to the police, I suppose it was a bit of my own self pride.
"I didn't want to go to the police saying I was getting beaten up by another male who I was in a relationship with."
He added: "But there is help out there for people in same sex relationships, nobody will be treated any differently."