Grant to help Glasgow Uni hunt for gravitational waves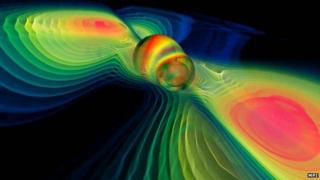 Scientists in Scotland have been given a £4.2m grant to develop new technology to test for one of astronomy's most elusive targets - gravitational waves.
The ripples in spacetime are thought to be caused by massive events, such as exploding stars or merging black holes.
Although predicted by Albert Einstein's general theory of relativity, the waves have so far eluded direct detection.
The grant will allow Glasgow University to work on enhancing the sensitivity of gravitational wave sensors.
'Great confidence'
Sheila Rowan, professor of physics and astronomy at Glasgow University, said: "We are entering a very exciting time in the search for gravitational waves.
"Experiments aimed at detecting gravitational waves have been in development for several decades and we are now reaching sensitivity levels where detection is expected in the next few years.
"There is great confidence that the advanced detectors currently under construction will be capable of detecting gravitational waves and giving us a new window into the nature of the Universe and further opportunities for discoveries in astrophysics, cosmology and fundamental physics."
The grant award from the Science and Technology Facilities Council will support researchers at Glasgow University's Institute of Gravitational Research to work with colleagues at Strathclyde, West of Scotland, Cardiff and Sheffield universities.