'Agony aunt' letter rapist John Robertson jailed for 12 years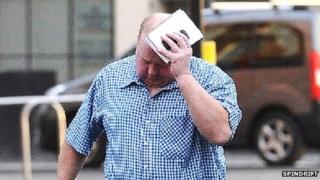 A man who was convicted of raping two young girls and sexually abusing two others has been jailed for 12 years.
John Robertson, 45, committed the offences at an address in Kilmacolm, Inverclyde, between 1990 and 2002.
He was caught after a victim's relative read an unsent letter to an agony aunt in 2002. Robertson was charged in 2011 after other victims came forward.
Robertson had denied all the charges against him and claimed his victims were lying to claim compensation.
Jailing him at the High Court in Glasgow, temporary judge Michael O'Grady QC told Robertson: "You have been convicted of an appalling course of conduct.
"You spent years preying on children. You abused the complainers when they were aged between eight and 15.
"Two of them were raped on seven occasions...with some of your victims you have blighted their young lives and with some you have ruined and haunted their adult lives."
'Just froze'
During his trial, the court heard that the note, which was written by one of Robertson's rape victims, was found by a family member in 2002.
The letter stated: "For the last seven years John Robertson has sexually abused me. I am ashamed and embarrassed. Can you help me."
When the case came to court, the victim who wrote the letter, now aged 26, told advocate depute Jane Farquharson, prosecuting: "I can't remember how many times I was raped."
The woman added: "I thought that it kind of happened to everybody and once I realised it didn't I thought I should have said something sooner, but I didn't know how to stop it."
Another victim, who was sexually abused by Robertson, said she "just froze" while he touched her inappropriately.
A further charge of rape was found not proven against Robertson.