Mhairi Convy and Laura Stewart road deaths 'could have been avoided'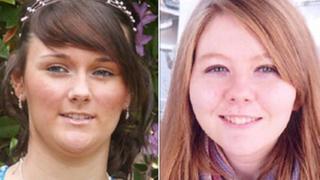 Two students who died after a driver's car mounted a pavement and hit them would still be alive if he had told the truth, an inquiry has heard.
Mhairi Convy and Laura Stewart were killed after William Payne's Range Rover struck them on North Hanover Street in Glasgow in December 2010.
Dr Neil Grubb gave evidence at the fatal accident inquiry into the deaths.
He said if the DVLA had been told of Mr Payne's blackouts, he probably would not have been allowed to drive.
The FAI heard that Dr Grubb, a consultant cardiologist, prepared a report based on medical information he was given about Mr Payne, 53.
He told the court that it was a "reasonable decision given the history and information available prior to the fatal accident inquiry that Mr Payne was not advised to cease driving".
More blackouts
Under cross-examination by Dorothy Bain QC, representing the families, Dr Grubb said that he would have ordered a tilt table test as early as April 2008.
The tilt table test is used to diagnose fainting. The inquiry heard that when Mr Payne underwent the test after the incident his heart paused for 10 seconds.
Dr Grubb said that it was "entirely possible" that if the test was carried out in April 2008 that it would have had the same result.
Miss Bain asked the witness: "If it had the same result you would have told him to stop driving?"
Dr Grubb replied: "Yes."
She continued: "What happened to Miss Stewart and Miss Convy could have been avoided."
The consultant answered: "Yes, if he had stopped driving, yes."
The doctor was told that Mr Payne had suffered more blackouts than he was aware of before compiling his report.
He also told the inquiry he did not know Mr Payne had completed a medical examination in July 2010 to renew his HGV licence.
Miss Bain told him that under the question "Is there a history of blackouts or impaired consciousness in the last five years" that Mr Payne said no.
She asked: "That's wrong isn't it?"
Dr Grubb said: "That's definitely wrong."
The QC asked: "If he told the truth in July 2010 would he be driving?"
Dr Grubb said: "He certainly wouldn't be driving an HGV and I believe he probably wouldn't be driving his own car."
Miss Bain continued: "If he told the truth the girls wouldn't have been killed?"
The consultant replied: "That's correct."
The inquiry before sheriff Andrew Normand continues.