Lego artist exhibition sets new Paisley Museum record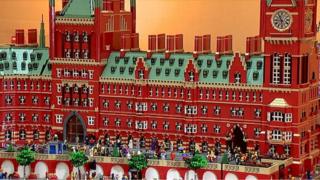 An exhibition of models built by professional Lego artist Warren Elsmore has ended a record-breaking run at Paisley Museum and Art Galleries.
The event attracted more than 50,000 visitors, with the single busiest day bringing in more than 2,000 people.
The 72 models displayed all featured in Elsmore's book "Brick City", which demonstrates how each was made.
Among the attractions on show was the Olympic Park and St Pancras Station in London and the Forth Bridge.
Rome's Colosseum and the Las Vegas strip were also among the dozens of displays.
Renfrewshire Council said the exhibition had attracted people from all over the country during its 16-week run.
Some local businesses also reported an increase in revenue or "customer footfall",
Councillor Jim Harte, convener of Renfrewshire Council's sport, leisure and cultural policy board, said: "The success of Brick City has been a tremendous boost for Paisley Museum and Art Galleries, the town centre businesses and the people of Renfrewshire.
"It has been wonderful to see so many visitors to Paisley town centre, and it's especially encouraging to see many thousands visiting Paisley for the first time."