Boxing promoter Barry Hughes jailed over mortgage fraud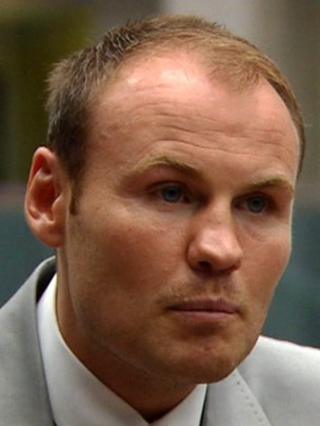 Scots boxing promoter Barry Hughes has been jailed for 43 months for mortgage fraud and money laundering offences.
The 35-year-old had admitted illegally obtaining £1.2m for two mortgages and laundering £150,000 and using some of the cash to buy a £30,000 Rolex watch.
Charges against his wife Jacqueline were dropped during a previous hearing at Glasgow Sheriff Court.
Sheriff Alan Mackenzie told Hughes he had engaged in repeated deception and a custodial sentence was appropriate.
"The fact remains that the deception you engaged in was not only audacious, involving extravagant claims to secure very substantial loans, but was also repeated," the sheriff said.
"Given the gravity of the catalogue of offending to which you have tendered guilty pleas I consider that no disposal is appropriate other that custody."
Hughes, from Renfrewshire, pleaded guilty at a hearing last month following more than two and a half years of court proceedings,
He admitted fraudulently obtaining £1,287,955 for two mortgages.
The boxing promoter admitted lying on mortgage applications about his wife's income in January 2004 for one property in Bridge of Weir and in November 2006 for a second in Kilmacolm.
The father-of-four claimed his 37-year-old wife made £160,000 from her business McDonald Interiors - but divorce papers lodged by her in 2006 stated she was "financially dependent" on her husband.
Divorce proceedings
The court was told that in January 2004 Hughes applied for a self-certified mortgage in his wife's name for £429,955 claiming that she was self-employed and owned McDonald Interiors.
Based on the information given to a mortgage broker the application was completed and granted.
Procurator fiscal depute Bernard Ablett told the court: "The lenders state that if they had known that the income details were false they would not have approved the loan request."
Before buying property at Kilmacolm, Mrs Hughes began divorce proceedings and papers were lodged at the Court of Session.
Mr Ablett said: "The summons stated that the marriage had broken down irretrievably.
"It averred that Jacqueline Hughes had been financially dependent on Barry Hughes both prior to, and after, their marriage on 10 August 2003.
"They also indicated that Jacqueline Hughes had not worked since the birth of their first child in 2000."
It was reported in January 2008 that Mrs Hughes dropped the divorce proceedings for the sake of their two daughters.
Tax records
A note in the records of Hughes' accountants suggests that he told them his wife did not work.
She did run a business called McDonald Interiors from 1998 which later changed to Star Design and bank records show it was in business until 2003.
Records from HMRC and DWP showed Mrs Hughes was a flight attendant between 1995 and 1997 and earned a maximum of £6,840 per year and that she received income support between October 2000 and September 2003.
She had declared no income to HMRC from 2003 until August 2009, and between then and February 2010 received £25,000 of wages from working as an office clerk with a taxi company.
Mr Ablett added: "The total amount of loans obtained by the accused as a result of the false statements in the application forms amounts to £1,287,955."
Mrs Hughes' not guilty pleas to the charges she faced were accepted.
Hughes also admitted two money laundering charges - for receiving £128,885 after selling a property and spending £30,000 towards a Rolex watch.
The boxing promoter will now be pursued through the courts for the illegally-obtained cash under proceeds of crime laws.