Martin Friars jailed for attack on Dylan McCausland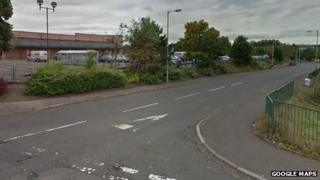 A man who led a gang attack which left his victim "trapped in a broken body" has been jailed for 11 years.
Martin Friars, 35, stamped and kicked on 24-year-old Dylan McCausland as he lay helpless on the ground in Glasgow's Baillieston area on 8 December 2012.
Following the assault, Mr McCausland remained in a coma for 12 months and now needs round-the-clock care.
Friars denied involvement but was convicted of attempted murder last month at the High Court in Glasgow.
When he appeared for sentencing at the High Court in Edinburgh, temporary judge Michael O' Grady QC told Friars that he had no option but to send him to prison.
'Utterly catastrophic'
The judge said: "You have ruined the life of a young man as a consequence of your brutality. You have left him facing a bleak and uncertain future.
"There is no sentence that I can impose that will change that."
Judge O'Grady said the consequences for Mr McCausland had been "utterly catastrophic."
He added: "He is for the rest of his life trapped in a broken body and to make matters worse, is fully understanding of his own fate. That is unspeakable."
The judge also told Friars: "This young man was outnumbered and at various stages defenceless and even unconscious; none of that mattered to you.
"On the available evidence, you were indeed the ringleader in this foul escapade. And it is chilling to recollect the evidence that in its aftermath, and as Mr McCausland lay dreadfully injured, you and the others walked away laughing and joking.
'Recreational violence'
"For you, it would appear that this was little more than recreational violence."
Friars' trial heard that the attack took place at the junction of Bredisholm Road and Ravenswood Road in Baillieston.
He led a gang that cornered Mr McCausland before stamping and kicking him as he lay helpless on the ground.
The court heard that the attack continued even after Mr McCausland had lost consciousness and ended with Friars running from the scene laughing and joking.
Friars insisted throughout his trial that three other men were responsible, but did not call any of them as witnesses.
Members of his family wept loudly in court as he was led to the cells following sentence.