Huge screen to showcase Commonwealth Games launch at Celtic Park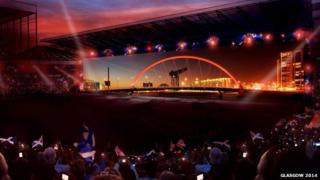 People attending the opening ceremony at the Commonwealth Games at Celtic Park in Glasgow will be able to watch events unfold on a 100m-wide screen.
The digital display is said to be the largest of its kind in Europe and will have a surface area of 1,020 sq m.
It will run the entire length of the stadium's south stand.
Games organiser Glasgow 2014 said it would play a key role in the creation of a "dramatic, immersive visual experience" for spectators.
Details of the ceremony have yet to be revealed, but volunteer auditions are under way.
'Sheer spectacle'
Head of ceremonies David Zolkwer said: "The building of a screen of this scale - running the entire length of Celtic Park's south stand - is going to add a really audacious dimension to Glasgow 2014's opening ceremony.
"Both through sheer spectacle and as a wonderful story-telling device, our goal is for the screen to be a wow factor - a fantastic augmentation to the story we are telling our live audience in the stadium and the many hundreds of millions of people watching on television around the world."
Scotland's national football stadium, Hampden, is also being transformed ahead of the games.
The surface has been raised almost two metres on a bed of metal stilts to accommodate a running track and athletics field.
Tickets are still available for the opening ceremony which will be held on 23 July.