Driver rescued from van sea plunge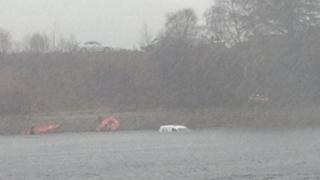 A van driver has escaped after his vehicle left the road and plunged into the sea, leaving only its roof above the surface.
He managed to get out of the vehicle and sat on the roof until rescuers were able to reach him.
Luckily, a Fast Water Rescue team was on an exercise nearby, and was able to take him to shore.
The incident happened on the road between Connel and Dunbeg, near Oban, at about 11:00.
The driver was taken by ambulance to Oban Hospital.
The Oban lifeboat was also called to the scene, but was stood down when it was confirmed there had been no one else in the van.