Australian firm Clough to create 110 jobs in Scotland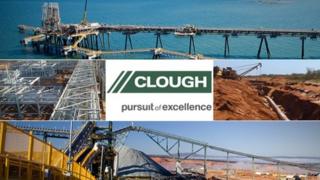 An Australian firm which services the energy, chemical and mining sectors is to open a base in Scotland, creating 110 new jobs.
Clough's new office at Bellshill, North Lanarkshire, is part of the company's expansion plan to target work in Europe, the Middle East and Africa.
The firm said it chose Scotland due to its closeness to these markets and its existing engineering resources.
The Scottish government is backing the investment with £1.5m of funding.
The Regional Selective Assistance grant was awarded through the economic development agency, Scottish Enterprise.
'Attractive location'
Clough chief executive and managing director Kevin Gallagher said: "Scotland was selected as the most attractive location for Clough due to its access to world class technical universities and highly experienced engineering resources, combined with its proximity to clients and opportunities in the North Sea, Europe, Middle East and Africa.
"Our Scottish centre will provide engineering support services to projects throughout this region as well as Australasia, helping to enhance value for clients across Clough's extensive project portfolio."
Deputy First Minister Nicola Sturgeon said Clough's decision to invest in Scotland was a sign of the strength of the country's education and engineering sectors.
"This is a testament to the quality and skills of the local workforce," she said.
"Scotland's energy sector boasts strong engineering and manufacturing skills that are globally recognised across the oil and gas industry.
"Scotland already has a world class education systems and establishments capable of supporting Clough's need to recruit and develop engineers, project managers and leaders of the future. Working in Scotland allows them to develop their business model to adapt to customer wants and demands."