Aye Write! festival to pay tribute to Iain Banks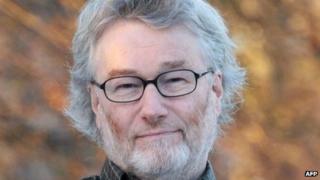 Organisers of the Aye Write! festival have announced this year's event will open with a tribute to Iain Banks.
The Remembering Iain Banks event will feature a series of his unpublished poems, which will be shared with the public for the first time.
Held at Glasgow's Mitchell library, the festival is a celebration of the work of Scotland's top authors.
Banks' last public appearance was at the Mitchell Library during Book Week Scotland in March 2012.
The author, best known for novels including The Wasp Factory, died last June, two months after announcing he had terminal gall bladder cancer.
Scots author Ken Macleod, who knew Banks since childhood, said: "The event will certainly be a fitting tribute to Iain as he had a strong connection with Aye Write. He appeared at the festival several times and always enjoyed it."
He added: "The audience can expect a great night reminiscing about Iain and some reflection on his work. We will also be sharing some extracts from some of his poems with the audience."
Scottish literature
The Aye Write! festival has taken place at Glasgow's Mitchell Library since 2005 and will run for nine days.
As well as celebrating the work of prominent Scottish authors, it allows writers to meet some of their fans and give advice to aspiring novelists at a series of talks and debates.
Karen Cunningham, Aye Write! director and head of Glasgow Libraries, said: "Iain Banks was a regular at Aye Write and he was always a massive hit with the public.
"He was incredibly supportive of the work we did trying to trying to introduce Scottish literature and writing to young people as part of the school curriculum."
This year's event is expected to bring more than 150 authors and speakers, including Laidlaw writer William McIlvanney, to the city when it runs from 4-12 April.