Glasgow 2014: Cost of Games ceremonies rises by 49%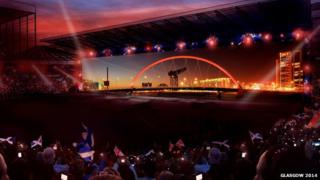 The cost of the opening and closing ceremonies at this year's Commonwealth Games has risen by almost half.
Organisers Glasgow 2014 confirmed that the combined cost of both events was now £20,850,000 - up £6,850,000 or 49% on the 2012 estimate of £14m.
A spokesman said the extra costs covered developments at both ceremonies to maximise the spectacle.
The costs will be met from the general budget. Meanwhile, ScotRail outlined plans for extra and later Games trains.
'Unique opportunity'
The Glasgow 2014 spokesman said: "The opening and closing ceremonies are key moments of the games, when the eyes of the world will be on Glasgow and Scotland.
"They offer a unique opportunity to showcase the host nation, the host city and the talent of the Scottish people.
"As we have developed the ceremonies, opportunities have arisen to add to the spectacle to deliver truly memorable events.
"To make the most of this once-in-a-lifetime opportunity, we have chosen to make some additional investments in the ceremonies."
The spokesman would not be drawn on details of the "additional investments" ahead of the events.
On Games transport, ScotRail has said it is "planning the biggest train timetable that Scotland has ever seen" to help transport Games spectators.
Extra carriages and more frequent services will be provided until late at night, with services running until 01:00 on some routes.
ScotRail said this was aimed at coping with an expected extra one million train journeys on its network during the Games period.
'Busy time'
The train operator said it would unveil the timetable later this month.
It will be introduced on 21 July, two days ahead of the opening ceremony. It will remain in place for two weeks until the closing ceremony on 3 August.
Steve Montgomery, ScotRail's managing director, said: "We have been planning this timetable for almost two years - working with games organisers, local authorities and industry partners to balance the needs of spectators and customers across Scotland.
"I'm confident that we'll make best use of every train, station and stretch of track available during what will be an extremely busy time for Scotland's transport networks."
ScotRail said it was due to hold talks with rail unions over staffing issues surrounding the Games timetable.
Last November, the RMT union called for "recognition and reward" payments to cover extra workloads before and during the event.
A ScotRail spokesman said: "We are making progress and are due to meet again soon with each of the trade unions to take matters further forward."