Elaine Doyle: Trial hears of teenager's final night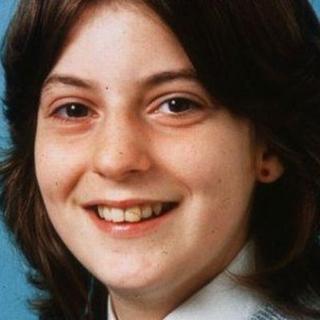 The Elaine Doyle murder trial has been told of the teenager's final night.
Elaine's best friend, Lynn McCurdy, 44, told the High Court in Edinburgh that they attended the disco in Greenock before parting at a hamburger stall.
Her last words to Elaine were: "OK. I will see you tomorrow". The 16-year-old's body was found in a lane near her home in Greenock on 2 June 1986.
John Docherty, 49, denies strangling the teenager.
Mrs McCurdy, whose unmarried name was Lynn Ryan, told the court about her final weekend with Elaine.
The jury was shown a photo of Elaine, taken in a photo booth after a Saturday evening spent in a pool hall where they regularly used to hang out.
That night Elaine stayed at Mrs McCurdy's then-home in Kilmacolm Place in Greenock.
Lift offered
On Sunday afternoon, Elaine went to a What Every Woman Wants store in the town centre to buy leggings for them both.
Elaine went to her own home to get changed, then the two girls met up again to go to a 50p disco at the Celtic Club in Laird Street.
Afterwards they walked together to a hamburger stall in Greenock town centre.
Around midnight they went their separate ways, with Elaine beginnig to walk home - turning down the offer of a lift with another friend's brother.
Mrs McCurdy said her last words to Elaine were: "OK I will see you tomorrow."
She said Monday 2 June 1986 began with an anxious phone call from the Doyle family, asking if Elaine was with her.
By 10:00 Mrs McCurdy was being questioned by police after the naked body of her friend had been found just yards from the Doyle family home in Greenock's Ardgowan Street.
Questioned by advocate depute John Scullion, prosecuting, Mrs McCurdy said that during the previous evening she and Elaine each drank two lagers. She said: "I wasn't falling about. I would just be happy."
Mr Scullion asked Mrs McCurdy if she liked to dance. She told him: "I did. We always carried on. It was just constant laughing."
Mrs McCurdy said four of them - including Elaine - were dancing together. She did not remember being chatted up.
"We were not really into boys as such," said Mrs McCurdy. "We were just friends with a lot of people."
She told the trial that Elaine would confide in her and, as far as she knew, Elaine had been a virgin.
Man in car
Mrs McCurdy also said she would be surprised if Elaine would go off with a stranger or get into a car with someone she did not know.
The trial has also heard of an incident - described in statements to police - where Elaine's father and police searched for her when she did not return home on time.
Elaine was also said to have told her friend about a man in a car offering her "a lift up the road".
Mrs McCurdy said she could not remember the conversation.
The witness was also questioned about other friends and acquaintances - names on a list of possible suspects which Mr Docherty claims might include Elaine's killer.
One man, known as "Daft Willie" Campbell hung around the pool hall where it was said he could be goaded into fighting with his friend, who also seemed to have learning difficulties.
Defence QC Donald Findlay produced a police statement in which Mrs McCurdy had told officers "I wouldn't be surprised if he (Campbell) turned violent".
She said that Elaine used to joke about Willie Campbell being her boyfriend.
Mrs McCurdy was also shown an artist's impression released by police in August 1986 of a ginger haired man.
She said it looked like Francis McCurdy - known as "Spike" - the man who later became her husband and who has since died.
Special defence
Mr Docherty, of Dunoon, Argyll, claims he was at home with his parents, who are no longer alive, at the time he is alleged to have strangled Elaine Doyle,
He has also lodged a special defence of incrimination, claiming the culprit might be among a list of 41 names taken from files of the police investigation into the alleged murder.
He faces a charge which alleges that on 2 June 1986 in a lane near Ardgowan Street, Greenock, he seized Elaine by the hair, struck her on the head and either removed or compelled her to remove her clothing.
The charge goes on to allege that Mr Docherty forced her to the ground, then placed a ligature round her neck and strangled her.
Mr Docherty also denies stealing a handbag from Ardgowan Street on the same date.
He further denies a charge of attacking another woman, Linda Hargie, on various occasions between 1990 and 1995 at an address in Greenock, by seizing her and pushing her on the head.
The trial, which is being heard before Lord Stewart, continues.