Elaine Doyle: Murdered teenager 'followed by man in car'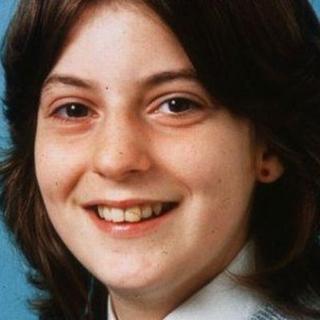 The Elaine Doyle murder trial has heard that the 16-year-old had asked boys to walk her home from nights out after being followed by a man in a blue car.
The High Court in Edinburgh heard that Debbie Ryan, the sister of Elaine's best friend Lynn McCurdy, gave the information to police in a statement.
The trial also heard that Mrs McCurdy's late husband Francis has been named among 41 other possible suspects.
John Docherty, 49, denies strangling Elaine Doyle in Greenock in June 1986.
Statements given by Ms Ryan and her sister, Mrs McCurdy, to police in the days and weeks following the discovery of Elaine's body have been read in court.
Mrs McCurdy, 44, previously told of her last night out with Elaine at a disco in the Greenock Celtic Club.
Ms Ryan, 47, told the court on Thursday that she was also at the disco in June 1986.
She said she saw Elaine dancing with a boy called Bernard Bradley but did not see her chatting to any men.
Elaine 'followed'
Questioned by defence QC Donald Findlay, Ms Ryan said she did not think Elaine was quieter than usual that night or behaving if something was bothering her.
Mr Findlay then asked: "Did you become aware there was a suggestion she had been, on a number of occasions, followed by a man in a car?"
Ms Ryan told the lawyer "Yes" and agreed it was a blue car.
The trial heard that Elaine had been so concerned that when hanging out at a pool hall in the town centre she would ask boys there to walk her home.
The trial also heard Mrs McCurdy discovered that her late husband had been named as a suspect - by the man accused of the teenager's murder.
Francis McCurdy - known as Spike - is on a list of 41 possible culprits which has been shown to the jury.
Jurors have also seen an artist's impression of a ginger-haired man produced by police in 1986.
Both Mrs McCurdy and her sister, Ms Ryan, told police the drawing resembled Francis McCurdy.
No secret
But Mrs McCurdy told the trial that during their 22 years together her husband never said or did anything to lead her to suspect him of being responsible for Elaine's death, or hiding a secret.
Bernard Bradley's name is also on the defence list of possible suspects.
In his evidence, Mr Bradley dismissed as "ridiculous" any suggestion that he might have murdered Elaine Doyle.
The 51-year-old, who in 1986 lived in the Larkfield area of Greenock, described the night he attended a disco and danced with all of the girls at a table where Elaine was sitting with her friends.
The trial has heard he was the only person seen dancing with Elaine who spent much of the night on the dance floor with three girlfriends.
Afterwards one of Mr Bradley's friends drove him home, stopping on the way at a Chinese takeaway.
He thought he arrived home at about 23:30. "I just went to bed," Mr Bradley told the trial.
Advocate depute John Scullion, prosecuting, asked him: "Did you go back out? Did you go to Ardgowan Street? Mr Bradley told him: "No".
Asked what he thought about his name being on the defence list of possible suspects, Mr Bradley replied: "It is ridiculous."
He continued: "I know who I was with, where I went, who I went with."
Defence QC Donald Findlay suggested that, if he had wished, Mr Bradley had plenty of time to leave his home in Devon Road, Larkfield, and return to Greenock town centre where Elaine was hanging out with her friends near a hamburger stall until around midnight.
DNA sample
"I know where I was and what I done," repeated Mr Bradley. "I know I was at home."
He told the lawyer: "It could not have happened. I was at home. I went home with a friend."
Mr Bradley said he did not know Elaine Doyle and only became aware of her death when police visited him on the day her body was found.
The trial also heard that in 2008 when police re-opened the investigation into Elaine's murder they visited Mr Bradley again and he gave them a sample of his DNA.
Mr Docherty, of Dunoon, Argyll, claims he was at home with his parents, who are no longer alive, at the time he is alleged to have strangled Elaine Doyle,
He has also lodged a special defence of incrimination, claiming the culprit might be among a list of 41 names taken from files of the police investigation into the alleged murder.
He faces a charge which alleges that on 2 June 1986 in a lane near Ardgowan Street, Greenock, he seized Elaine by the hair, struck her on the head and either removed or compelled her to remove her clothing.
The charge goes on to allege that Mr Docherty forced her to the ground, then placed a ligature round her neck and strangled her.
Mr Docherty also denies stealing a handbag from Ardgowan Street on the same date.
He further denies a charge of attacking another woman, Linda Hargie, on various occasions between 1990 and 1995 at an address in Greenock, by seizing her and pushing her on the head.
The trial, which is being heard before Lord Stewart, continues.