Glasgow 2014: Sturgeon backs Red Road demolition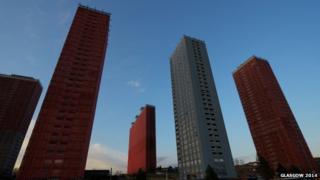 Scotland's deputy first minister has defended the plan to demolish Glasgow's Red Road flats as part of the opening ceremony for the Commonwealth Games.
Nicola Sturgeon told BBC Scotland she believed the demolition plan was a "good idea".
But she said it was important to listen to the people of Glasgow, including those who have expressed opposition to the plan.
Organisers plan to show the demolition live at the Celtic Park opening event.
But thousands of people have signed an online petition calling for the plan to blow up five of the six remaining Red Road flats to be dropped.
One tower block, which is currently used by asylum seekers, would remain.
Campaigners believe the towers should be brought down with "dignity" and not as part of an entertainment spectacle.
When asked by BBC Scotland's political editor Brian Taylor whether she was in favour or against the demolition plan, Ms Sturgeon replied: "No, I think it is a good idea,
"I think it is something that can help us both celebrate the history of Glasgow and look forward to the future of Glasgow. Obviously these things have to be done sensitively."
Talks over the controversial proposals are to be held next week between games organisers Glasgow 2014 and former Scottish Socialist MSP, Carolyn Leckie, who launched the online petition.
Ms Sturgeon, who is the MSP for the Glasgow Southside constituency, said she did not believe the demolition would be tasteless.
The deputy first minister added: "I also believe as a politician in Glasgow that it's important to listen to people's views and not simply to dismiss them.
"The Red Road flats are in many ways iconic for a number of different reasons in Glasgow, and it's absolutely important that what they represent in Glasgow is honoured and dealt with sensitively,
"I think we've all got a duty to listen to those who might not be as enthusiastic about this as others so we can move together in a way that allows us all to look forward to the Commonwealth Games as I am doing immensely."
Glasgow 2014 plan would see more than 1,250kg of explosives being used to bring the five tower blocks down simultaneously in about 15 seconds on 23 July.
The demolition would be beamed back live to a 100m-wide screen at the Celtic Park opening ceremony and shown to a television audience of millions of people.
As part of the operation almost 900 surrounding homes would be evacuated, with an exclusion zone put in place around the entire site.
Games organisers said the demolition would be a "symbolic" event signalling urban regeneration in Glasgow.
Eight tower blocks were built in the mid 1960s as part of the Red Road development. They were once the highest flats in Europe and housed more than 4,000 people.
Two have since been demolished by the social housing landlord, Glasgow Housing Association.