Road closures as work continues on A82 Pulpit Rock scheme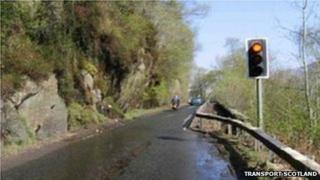 Overnight road closures have been scheduled on the A82 at Pulpit Road to allow improvements to be carried out.
The closures will take place from 28 April to 4 May and 10 May to 16 May.
The road will close at Pulpit Rock, south of Ardlui, at 22:00 and is scheduled to re-open each day at 06:00
The closures are to allow the installation of a number of steel box girders, each weighing up to 50 tonnes. Traffic diversions have been set-up to minimise disruptions to drivers.
For drivers heading northbound the diversion is via the A83 at Tarbet, A819 and A85 while drivers heading southbound will go via the A85 at Tyndrum, A819 and A83.
The construction work is dependent on favourable weather allowing cranes to lift in the steel box girders.
Dominic Murphy, Transport Scotland project manager, said: "The contractor is planning to undertake a significant and challenging activity which relies on favourable weather conditions.
"As such, weather forecasts will be monitored in the days leading up to the scheduled closures to ensure the work can proceed as planned."
He added: "We would like to thank the local community and road users for their continued patience during these works."
Drivers are advised to check Traffic Scotland's website for further information about the planned closures.