Police appeal after assault at Drumchapel station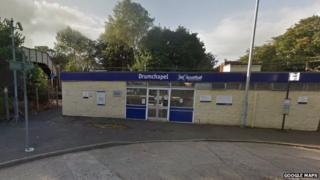 Police have appealed for information after two men were assaulted at Drumchapel train station in Glasgow.
Six men were involved in the incident on the station platform at about 14:55 on 14 April.
A 34-year-old man required hospital treatment after he fell onto the track and suffered a leg injury.
The altercation, which is thought to be football-related, is believed to have started on the 14:36 Glasgow Central to Drumchapel train.
After the assault four men made off from the station in the direction of Garscadden Road through the car park.
The injured man was taken to the Western General hospital where he was released after treatment.
An 18-year-old man who was with him was uninjured.
The four other men are described as being in their late teens to early 20s with short dark hair.
Two of the men were carrying bags.
Det Con Andrew Egan has appealed for anyone who witnessed the assault to come forward. He said: "It is my understanding that this incident may have been football-related.
"This sort of behaviour will not be tolerated and others travelling on trains should be able to do so without encountering it.
"Anyone who was on the train or at Drumchapel station, which was busy at the time, is asked to come forward with information which may assist our inquiries."