Glasgow 2014: Games ticket sales to resume on Wednesday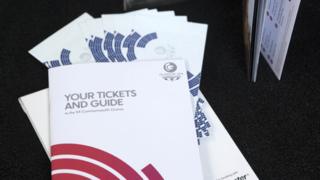 Extra tickets for the 2014 Commonwealth Games in Glasgow are to go back on sale on Wednesday at 10:00 after problems saw sales suspended earlier this week.
Glasgow 2014 said there would be a phased approach with 50,000 tickets released in batches over three days.
The Games organiser is also introducing free postage on all new orders and a freephone number for all calls to the ticketing hotline run by Ticketmaster.
Sales were halted on Tuesday amid long delays and purchasing glitches.
Glasgow 2014 chief executive David Grevemberg said: "While we sold more than 60,000 tickets through our ticketing website and hotline last week and saw the most incredible support and enthusiasm from the public, the experience of purchasing tickets was frustrating and unacceptable for some people.
'Huge support'
"With additional measures in place aimed at managing demand and the addition of free postage on all orders and a Freephone Ticketing Hotline, we aim to get back to the business of ensuring remaining tickets are sold and that thousands more people can begin to look forward to experiencing the excitement of the Games.
"While we cannot change the past experience of some of our customers, we do want to thank everyone for their huge support of the Games."
Mr Grevemberg added: "Our focus now is on enabling everyone who wants to be part of one of the world's great sporting parties to be able to secure the tickets to do so."
Sports Minister Shona Robison described the new ticketing arrangements as "sensible".
"Progress has been made with Ticketmaster on the technical issues related to the website and the Games organisers have received assurances from the company that the system will be able to cope with the expected substantial demand when it is re-launched," she said.
"Both Glasgow 2014 and Ticketmaster have listened to customer feedback and I believe the move to a phased rollout for this release of tickets is a sensible approach to alleviate pressure on the website and give people greater clarity on availability for individual events."
Ticketmaster chairman Chris Edmonds said the firm had been working with Glasgow 2014 to ensure the new sale progressed smoothly.
Political criticism
The ticketing debacle was raised in the Scottish Parliament on Thursday amid widespread criticism from frustrated members of the public.
During First Minister's Questions, Alex Salmond said the problems were a matter of "great regret and frustration".
Scottish Conservative leader, Ruth Davidson, said the episode had been "shambolic".
The extra tickets went on sale on the Glasgow 2014 website on Monday at 10:00 but by that afternoon numerous complaints had been made about long delays and problems with finalising transactions.
Online sales were temporarily suspended in the early hours of Tuesday morning but this failed to resolve the issues.
A second day of problems resulted in Glasgow 2014 suspending online and phoneline sales at 18:00 on Tuesday, with just over 60,000 of the tickets sold.
It later emerged that some people who dialled the phoneline and encountered an engaged tone were still charged.
Glasgow 2014 said that anyone affected by this problem would receive a refund.