Two people injured in fire at flats in Parkhead in Glasgow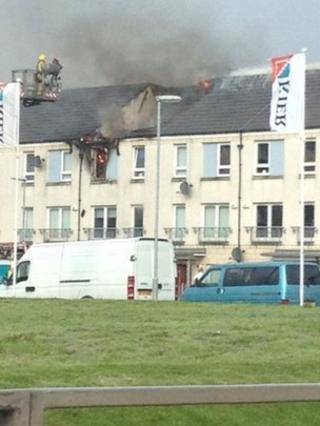 Two people are being treated for slight burns and smoke inhalation after a major fire at flats in Glasgow.
The blaze was reported at the block of flats in Belvidere Terrace, in the city's Parkhead area, at about 08:30.
The two injured male youths are being treated for their injuries at Glasgow's Royal Infirmary.
The blaze was put out by more than 40 firefighters. Crews are still in attendance. Part of the internal structure of the flats has collapsed.
Group commander Brian Winter, from the Scottish Fire and Rescue Service said: "Firefighters were faced with a well developed fire, the intensity of which caused a partial collapse of the internal structure and their quick actions certainly limited the damage to neighbouring properties.
"Both internal and external firefighting operations were conducted with the use of high-reach appliances and breathing apparatus teams and successfully extinguished the fire.
"Crews remain in attendance and are working to ensure there are no further casualties."
A joint investigation with police, into the cause of the fire, is due to get under way.