Social care 'failings' over drowned baby Aaron Egan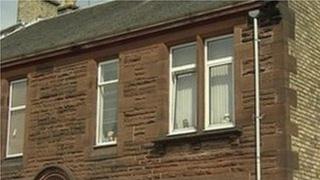 A baby who died while in the care of his drug addict parents may have lived if social workers had taken him into care from birth, a report has found.
Five-month-old Aaron Egan drowned in the bath in Kilmarnock on 17 July 2010.
Parents Thomas Egan and Chrystine Templeton were originally charged over his death but the case was dropped.
A review has found Aaron's death could not have been anticipated but there were missed opportunities to intervene by East Ayrshire Council and others.
The Significant Case Review was commissioned after Aaron died at a flat in Fullarton Street, Kilmarnock.
High-risk referral
The report states that Aaron's mother was the subject of a "high risk pregnancy referral" from social services on 8 August 2009.
When he was born six months later, on 6 February 2010, Aaron's name was placed on the child protection register under the category of physical neglect.
Aaron was "discharged" home on 22 March 2010 with a support plan in place, including "addiction support" for both parents.
The review report notes that between 22 March and 16 April, home care staff made only 29 visits from 47 attempts.
Despite further problems with home visits from care staff, it was decided on 26 April to remove Aaron's name from the child protection register as "the family was engaging well with the agencies involved".
The report notes that between 26 April and 17 July 2010, care staff visited the family home on 128 occasions but only gained access 67 times.
Its key findings state that Aaron's death "could not have been anticipated".
The independent review officer recognised that the parents "tried to give their baby a family life, and noted that at no time did any of the services involved express a concern" about Aaron's development.
The review officer concluded that staff involved in supporting Aaron's parents had "tried their level best to support the parents and provide a safe environment" for Aaron.
The report states that Aaron's death "could have been prevented if the parents had fulfilled their parental responsibility" and not left Aaron "on his own".
'Missed opportunities'
It also states that Aaron's death could have been prevented if he "had been accommodated at birth" (taken into care).
The report recognises that "this was a difficult decision due to the range of factors" but it also notes there were "missed opportunities" in relation to Aaron's care.
In total, the report makes 17 recommendations to the partner agencies involved in Aaron's care.
Susan Taylor, chairwoman of East Ayrshire Child Protection Committee, said: Aaron's death "had a significant impact on everyone involved in providing care to him".
She said: "Child protection professionals will always strive to keep children safe, and where possible, families are supported to care for their children at home.
"In this situation, the multi-agency child protection team put in place a package of measures to help the family care for Baby E (Aaron).
"The independent review officer recognised that the child protection team tried their level best to support the family, and noted that staff could not have anticipated that this event would happen."
Ms Taylor added: "This significant case review has been carefully considered by the agencies involved and there has been a determined effort to understand and learn important lessons from this incident.
"We are committed to working together to keep children safe from harm through continuous improvements and developments in practice."