Inspectors find cleanliness concerns at Ayr Hospital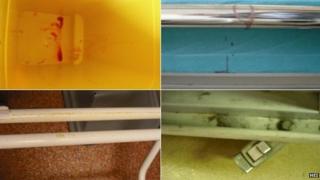 Health officials have been told to make urgent improvements at a hospital in Ayrshire after inspectors found serious problems with cleanliness.
Unannounced inspection visits during April found problems with cleanliness in the accident and emergency department at Ayr Hospital.
Poor standards of environmental cleaning and instances of contaminated patient equipment were also found.
NHS Ayrshire and Arran said "immediate steps" were taken to address concerns.
A team from the Healthcare Environment Inspectorate (HEI) carried out an unannounced inspection to University Hospital Ayr, known locally as Ayr Hospital, on 1 and 2 April.
Due to concerns about the cleanliness of the accident and emergency department, they also carried out an unannounced follow-up inspection on 11 April.
Some of the problems found included:
clinical waste wheelie bins contaminated with blood spillage;
improper disposal of sharp equipment;
"thick grey dust" in the accident and emergency department;
patient equipment contaminated with blood and body fluids.
HEI chief inspector Susan Brimelow said: "During inspection on 1 and 2 April we were not satisfied with the standard of cleanliness seen in the accident and emergency department.
"The standard of environmental cleaning was poor and we found patient equipment which was not clean.
"We escalated our concerns to senior management and requested that immediate action be taken to improve the standard of cleanliness."
Action plan
Ms Brimelow said inspectors returned on 2 April "and found significant improvements had been made".
"We requested that NHS Ayrshire and Arran produce an action plan, within five working days of our initial inspection, detailing how sustainable improvements would be made to control the risk of infection," she said.
"Following receipt of this action plan, we made an unannounced re-visit to the accident and emergency department on April 11 to check on the standard of cleanliness, and found significant improvements.
"However, further attention to detail was still required. This inspection resulted in six requirements and one recommendation which NHS Ayrshire & Arran must address as a matter of priority. We will follow-up on these concerns at future inspections."
Public reassurance
NHS Ayrshire and Arran chief executive John Burns said he wanted to "reassure the public that we take prevention and control of infection extremely seriously".
"There were some areas where the inspection team noted that improvements could be made," he said.
"These areas mainly related to the standards of cleaning within the accident and emergency department and immediate steps were taken to address these during the inspection."
Mr Burns noted that inspectors had "found that NHS Ayrshire and Arran was complying with the majority of standards to protect patients, staff and visitors from the risk of acquiring an infection".
He said: "In particular good progress had been made to the clinical facilities in the intensive care unit and high dependency unit, and improvement work had been carried out in developing antimicrobial prescribing policy and practice.
"The report notes staff's good awareness, knowledge and understanding of their roles and responsibilities for infection prevention and control in the ward environment and staff spoke positively about the level of communication with domestic services and felt able to influence domestic cleaning."