Elaine Doyle murder: Accused 'reacted' to police hunt jibe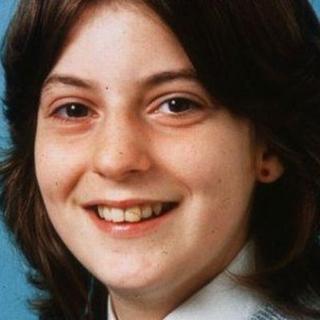 The Elaine Doyle murder trial has been told that the accused reacted "very angrily" when taunted about not helping the police search for her killer.
John Docherty's former fiancée, Linda Hargie, 51, claimed he had pushed her and said: "Never say that again."
She said Mr Docherty had refused to contact detectives despite their appeal to trace those at a local club attended by Elaine on the night she died.
Mr Docherty denies killing the 16-year-old in Greenock in June 1986.
Health visitor Ms Hargie was a nurse in June 1986 when Elaine's naked body was found just yards from her home in Ardgowan Street Greenock.
'Pushing and shoving'
She told the trial at the High Court in Edinburgh that she met Mr Docherty two years earlier and they became engaged in December 1984.
Their volatile relationship lasted, on and off, until 1995.
During rows, she said, there would be "pushing and shoving" but Mr Docherty never beat her up.
Ms Hargie said in the aftermath of Elaine's murder police were appealing for anyone who had been in the Greenock Celtic Club the night before the teenager's body was found to contact them.
Elaine had been at a Sunday night disco there.
When she suggested Mr Docherty should go to police, she said he told her he had no intention of contacting them.
"John said it was unlikely they would come to the door for him because he hadn't signed the visitors' book," said Ms Hargie.
Things became "more turbulent" in the 1990s said Ms Hargie.
She went on to describe an argument at her then home in Albert Road, Gourock, after Mr Docherty had joined the Army.
He was "walking out on her" and packing his kit bag in a small room in the flat.
She said she brought up the subject of Elaine Doyle and asked if Army officers were aware he had never contacted police about the murder.
"I think I said: 'I wonder what would happen to your Army career if they knew you had not fulfilled your obligation.'" Ms Hargie admitted: "It is not something I am proud of."
She told advocate depute John Scullion, prosecuting: "He reacted instantly and very angrily."
'Spiteful' remark
She continued: "He immediately stopped what he was doing and turned round and pushed me by the throat or shoulders against the wall in the hall and held me there before he said: 'Never say that again' and released me."
It was like "an exclamation mark" she said.
Ms Hargie added: "I raised the subject in a spiteful, mischief-making way because I had a desire to make John think I could make trouble for him, the way he had made trouble in my life a lot."
The trial heard that Ms Hargie did not go to police and did not contact them when, during another fight in front of her sister and her sister's boyfriend.
Mr Docherty held her down by her hair in the street, she said and she fought back and stamped on his watch. "I was petrified," she said.
Ms Hargie said she did not see a BBC Crimewatch reconstruction of the Elaine Doyle murder but was aware of renewed media attention at the time.
She discussed with her new partner and her sister whether she should tell what she knew about Docherty, but decided not to.
The trial heard it was the police who approached Ms Hargie after Mr Docherty's arrest in March last year.
She told them she was "totally shocked" that he had been charged with the murder.
Defence QC Donald Findlay suggested Mr Docherty's reluctance to contact the murder hunt might have been because of a previous scrape with police.
The lawyer also noted that in an official report the local procurator fiscal had complained about a lack of willingness by people in Greenock to speak to police.
Mr Docherty, 49, denies murder and claims that at the time he is alleged to have stripped and strangled Elaine Doyle, he was with his parents - who are no longer alive - at their home in Anne Street.
He has also lodged a defence of incrimination, claiming the killer might be among a list of 41 names taken from files of the police investigation.
The trial continues.