Midnight march after Glasgow sex attacks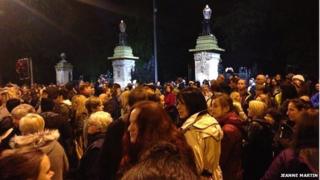 Thousands of people have taken part in a midnight march in the south side of Glasgow after a series of rapes and sex attacks in the city.
The event - which was called These Streets Are Made For Walking - began at Queen's Park on Victoria Road in Govanhill.
Last month a 24-year-old woman was raped in nearby Dixon Road.
Organisers of the walk said they were tired of being told they should not go out at night alone.
Police have released CCTV footage of two men they want to speak to in connection with the Govanhill attack.
Detectives are also hunting three men after a woman was raped in Toryglen on 10 May.
The march was organised by Ashley Crossan and Amanda Johnston. More than 4,000 people responded to a Facebook invite page set up to promote the event.
Ms Crossan said: "We decided to organise this walk because it is absolutely unacceptable that we feel fear on a day-to-day basis walking our streets of Glasgow.
Ms Johnston added: "It's awful. People are really quite afraid so we need to do something. With this walk we are hoping that if we can at least raise awareness then that's a start."