Funding of £6m to help landslip spots on A83 in Argyll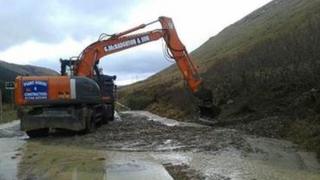 Another £6m is to be spent on debris fences and netting to protect the A83 in Argyll from landslides.
The cash will be spent on installing safeguards along the road at Cairndow and Loch Shira and at Glen Kinglas.
The funding was announced by Transport Minister Keith Brown at a meeting of the A83 Rest and Be Thankful taskforce.
The group is named after the location most recently affected by landslips. Almost £8m has been spent there to mitigate the effects of debris falls.
As well as netting and fencing, a diversion route has been opened near the Rest and Be thankful along the Old Military Road.
Government priority
This avoids the need for lengthy diversions when the carriageway is affected by landslips, usually following periods of heavy rain.
Mr Brown said that with landslip protection work now coming to an end at the Rest and Be Thankful, it was time to safeguard other parts of the A83.
"We want the road to remain operational, whatever the conditions, and we have made landslide mitigation our priority," he said.
"Solutions are being delivered by Transport Scotland, with almost £8m spent around the Rest and Be Thankful in recent years.
"The A83 Route Study has recommended actions to address landslide hazards at other locations and this funding will allow us to take forward a programme that will achieve a similar level of residual risk from landslides that we have achieved at The Rest."
Argyll and Bute Council Leader, Councillor Dick Walsh, said the A83 was "absolutely crucial to keep Argyll and Bute open for business".
"It plays a key part in our own strategic objectives of building a strong local economy and encouraging people to come to Argyll and Bute to live, work and visit," he said.